Trusted by 54,561 users
Take Your Coaching to The Next Level
Make check-ins a breeze, wow your clients and 10X your productivity
with your very own branded coaching app in the App Stores.
A Complete Set of Features to Manage & Grow Your Coaching Business
Your own Coaching app
You can manage your clients on the go. Clients can log their workouts, view their plans and check-in on the app.
Unlimited Clients
We don't charge you more as your business grows, each plan offers unlimited clients at no extra cost.
Custom Payment Plans
Create recurring and 1 off payment plans for your clients. You can even set up offline payment if you get paid elsewhere.
Stripe & PayPal
Accept Stripe & PayPal payments directly. We don't charge any commission on your sales.
Nutrition plans
Create full meal plans or macro only. Add alternative meals and even choose what macronutrients your clients get to see.
Food Database
We have over 250k foods in our food database, you can also add your own.
Workout plans
Create your workout plans with supersets, RIR, RPE, rest periods and more.
Log Workouts
Your clients can log their workouts in the app directly, view exercise videos and view their previous history during a workout.
Exercise Library
We have all the basic exercises covered but you can add your own. Either directly upload or import from YouTube links.
Supplement Plans
Create your own supplement plans and add links to your favourite supplements directly in the plans.
Check-in Forms
Create your own weekly check-in forms with as many fields as you need. Everything from ratings out of 10, video upload, photo upload and more.
Daily Habits
Set accountability tasks for your clients each day to tick off as they go.
The Vault
Your own private content area to upload content for your clients. You can even drip content out to clients at specific time intervals to keep them engaged.
Automations
Create forms to capture leads & automate follow ups, you can also create email, chat and push notifications for many of the events in Kahunas.
Data Tracking
Graphs for every metric, we currently track HRV, RHR, Stress, Sleep, Hunger, Steps, Weight, Waist, Fatigue, Recovery, Strength, Calories & Macronutrients.
Calendar
Schedule events, goals, appointments and more with your clients. Receive notifications ahead of time and on the day.
Nutrition Logger
Your clients can log their nutrition directly in the app and you can see an overview of food logged vs what you set.
Wearables Coming Soon
We are working on integrating all the major wearables, Google Fit, Apple, Oura and FitBit.
Why Kahunas is the only choice for
busy online coaches.
Hi, my name is Mark, I am the founder of
Kahunas.
I have worked in the fitness industry for the last decade helping to scale digital brands and apps to 7 figures and beyond.
Working with busy online coaches just like you, our team has dedicated the last 18 months creating a coaching platform that delivers on it's promise.
I have used all my experience, working with over 100k users, across multiple platforms and your feature requests to build what you see today, and we are only just getting started!
95% of the features are built with your say so, any requests are posted on our development board and you, the coaches get to vote on what you need next, not what we think you will need.
This means you get a coaching platform built for your needs, your own branded app in the app stores, a team with decades of experience and all my knowledge and skills dedicated to you and your coaching business.
Previous projects I have worked on had budgets from $250k to $1m.
You get the full experience, a platform built around you for just a fraction of that price.
I would love to welcome you on the platform and show you just what Kahunas can do to help you with your online coaching business.
Jump in and get started today for free!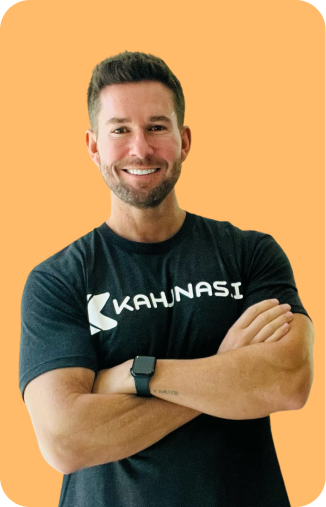 Mark Fox
Stand Out Features Made For You
Trusted By 54,561 Users
Real world coaches crushing it with Kahunas
Get Your Own Coaching App Live in Less
Than 30 Days!
Basic / Monthly / Yearly
Best for coaches just starting out who want to level up their coaching and manage all their processes in 1 place.
What's included:
Unlimited clients*
Unlimited plans
Kahunas branded app
Premium / Monthly / Yearly
Best for coaches who want to wow their clients and reach that next level in branding with your very own branded app in the App Stores.
What's included:
Unlimited clients*
Unlimited plans
Your own branded coaching app**
Business / Monthly / Yearly
Best for teams who have multiple coaches and need to assign clients to different coaches.
What's included:
Unlimited clients*
Unlimited plans
Your own branded coaching app**
Up to 5 team members
*Subject to fair usage policy.
**IOS app requires you to have an Apple account for us to upload your app. Apple charges $99 USD per year for a license fee, payable directly to Apple. Don't worry, we will guide you through the process, it takes just a few min..
Need More Info?
Take a look at the questions below or use the wave icon in the bottom left
corner to get in contact.